Starting March 1996 and for fourteen issues, Paul edited Irish Doctor, a monthly journal for doctors. In a break with tradition and to make the journal more relevant, Paul wrote a lead article for each edition, taking readers into areas of medicine rarely visited. He explored the health services in Mountjoy jail, Ireland's most dangerous and controversial penal establishment.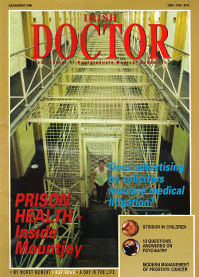 He was the only journalist allowed visit, report and photograph the state's oldest working morgue (Read full article here).  Sadly the then state pathologist, Professor Jack Harbison, has since retired and the mortuary is being demolished to make way for a new and state-of-the-art facility under the direction of Ireland's new state pathologist, Prof Marie Cassidy.
In addition Paul wrote on rehabilitation programs for sex offenders in state prisons, addiction strategies for heroin users and the care of patients in the Central Mental Hospital, Ireland's detention centre for the criminally insane. He interviewed Dr James Donovan, founder and director of the Forensic Science Laboratory based at police HQ in Dublin's Phoenix Park. Dr Donovan was at the centre of many high profile trials and his forensic evidence helped clinch convictions in many terrorist investigations, including the murderers of Lord Mountbatten in Sligo in the late 70's.
Donovan's fearlessness and refusal to capitulate to intimidation made him an enemy of crime bosses and subversives. He had bullets sent to him through the post, threatening mail and phone calls and was blown up on his way to work by a device attached to his car. Donovan sustained horrific leg injuries and at one stage it was thought he might need both lower limbs amputated. Fortunately the skill of orthopaedic surgeons saved him from this drastic surgery and within eighteen months he was back at his desk.
Separately, Paul Carson wrote on the many medical advances and achievements in the state's major hospitals. He described facilities for pre-term babies at Dublin's Rotunda Hospital, neurosurgery at Beaumont Hospital, delicate eye surgery at the Royal Victoria Eye & Ear Hospital etc. The pieces were so well received that Irish Doctor achieved its highest readership ever, making the other monthlies sit up and take notice.
Paul resigned as editor in mid-1997 to concentrate on his medical thrillers.