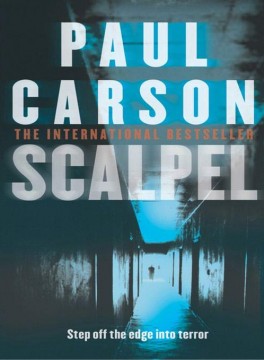 A killer is stalking the corridors of Dublin's Central Maternity Hospital. A young laboratory assistant is found brutally murdered at her bench and the only clue is a blood stained scalpel. The police investigation, led by DS Kate Hamilton, is blocked by a wall of silence from hospital staff, desperate to protect their reputations. DS Hamilton suspects the murderer is among them but as she closes in on the killer, she little realises the hunter has become the hunted. Will Hamilton uncover the killer before he gets to his next victim? Every patient's nightmare is about to come true.
Scalpel Prologue
8.45 pm, Monday, 3rd February 1997
Public phone booth, Molesworth Street, Dublin
'Hullo?'
'I want to speak to John.'
Pause. Breathing clearly heard over the lines.
'This is John speaking.' Cautious. Wary.
'Hello John. This is Bobby.'
Grunt of recognition.
'Hi there, Bobby boy, how are you?' Oily, greasy. Slick Cockney.
'I'll be in London on Friday twenty-first, arriving at eleven fifteen in the morning.'
'That's nice, Bobby boy.'
'I'd like to place an order for collection that day.'
'It's a good time to buy, Bobby boy. Some things are coming down in price. Want your usual?'
'Yes.'
'That's no problem.'
'I'll call you as usual?'
'As usual.'
Pause on this end now.
'Can you get me a girl?'
Sharp breath. Clicking of teeth, tut-tutting.
'Oh that's gonna be difficult, Bobby boy. We had complaints from the last girl.'
No response.
'You hurt her a lot and you know that, don't you?'
Pause.
Then: 'Can you get me a girl?' Firm, pressing. Cut the crap.
Grunt. More clicking of teeth.
'I'll have to go outside for one and that means it'll cost you.'
'How much?'
No pause.
'Five hundred per night. And if you rough her up that's it for good. Never again, understand?'
Angry. Slickness gone.
No pause.
'No problem. I understand.'
'No hard feelings Bobby boy. Business is business.'
No more tut-tutting. Just business. Terms agreed.
'Call me as usual?'
'As usual.'
'See you soon, Bobby boy.'
Click.
He placed the handset down slowly. The frost from his breath misted up the receiver and call box windows. He pulled his overcoat up, tugging slightly on the lapels at the front before walking out into the cold night air. He looked neither left nor right; careful purposeful strides away from the phone booth. As he made his way towards the crowded streets he peeled off the protective gloves he had been wearing. The first he pushed into a used Mc Donalds chip bag he had in one pocket before dropping it into a wastepaper bin. The second he kept for nearly another ten minutes before it too was stuffed into another Mc Donalds bag and dropped into another bin.
Like everything he did in life, he was efficient and exact.
Clinically precise.
As bad a baddie as Hannibal Lecter…a fast pace and an energetic storyline.
- Irish Times
Thoroughly enjoyable..Paul Carson is a name to watch. Top marks on the 'hard to put down scale.'
- Evening Herald
An undeniably compelling chiller.
- GQ
This wonderfully tense read gleefully twists and gnaws at the nerves and has a terrifying sense of 'it really could happen' about it. Superb.
- Big Issue (UK)
A brilliant debut..a first rate thriller.
- London Magazine
Carson's pace is helter skelter…a first class thriller.
- Sunday Tribune