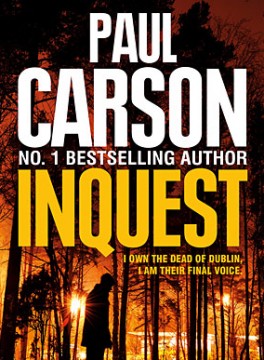 Dr Mike Wilson is Dublin City Coroner, investigating violent, unusual, unexplained or unnatural deaths. One case worries Wilson a lot.
Back in 2009, Patrick Dowling was found hanging in woodland. There was an initial flurry of police activity that ended with the autopsy result: suicide.
After studying the file Wilson is convinced someone was involved. He believes Dowling was murdered. Inquest is the story of a city, its coroner, his court and one suspicious death.
Listen to Paul discuss Inquest in detail here.
My work is death.
Homicide, suicide, death by misadventure, death by medical negligence, burns, drowning, drug overdose, electric shock, surgical shock, hit by a train, run over by a bus: I deal with them all. And a lot more besides. I'm a doctor but my charges don't speak to me. None of them complain about stomach cramps, headaches, sore throats or dizzy spells. I don't check their blood pressure, inspect their skin and nails or examine their eyes. Yet I know more about them than they knew about themselves. More than their family and friends. I know when and where they were born. How and where they lived. And how and when they died.
By day I learn of their lives and loves, marriages and offspring, occupations and social habits. By night I read their autopsy reports. There are mornings I wake up with photographs scattered on the carpet at the side of my bed. Brutal and graphic pictures of crime scenes and post-mortem findings. They would have slipped out of my grasp the night before as
I struggled against overwhelming tiredness. Sometimes these images haunt my dreams. Like ghosts.
I don't sleep well on these nights. My wife, Sarah, refuses to share the marriage bed. She finds the wretchedness of
this work too distressing. It's not that she doesn't love me because she says she does and I believe her. And I love her more than I can ever express. But I have weighty responsibilities. My official title is Dr Michael Wilson, Dublin City Coroner.
I own the dead of Dublin.
I am their final voice.
2. Patrick Dowling was found hanging in woodland on November 30th 2009. The police investigation into the twenty-eight-year-old man's death ended as soon as the autopsy result was announced. Suicide. They made a few inquiries, talked to close friends and family, but not with any real purpose. As far as they were concerned the case was closed. Then, tragic circumstances forced the inquest into my office, and after studying the file for some time I came to a very different conclusion. Dowling had been murdered. My role as coroner is to investigate events like this. I inquire into unusual, unexplained, violent or unnatural deaths. I ask the who, when, where and how? And then I decide what happened. The state must have an understanding on strange fatalities, and families must have closure.
Once I decided Dowling had not died by his own hand I had to take on the State and prove it. So at one 1.45pm on Thursday, June 3rd 2010, I started with Jack Matthews, the detective who'd discovered the body. We were in my office, or the 'room of sighs' as I call it, at the Dublin City Coroner's Court; sighs because that's mostly what staff hear from me there as I pore over
paperwork. I've another name for the court itself: 'the chamber of ghosts'. I've a vivid imagination. "When Dowling was found he'd been missing less than twenty-four hours." I said it as if I was going over the inquest file for the first time.
I looked across and Matthews nodded.
I arched my eyebrows. It was time to start probing. "Why the sudden search? He was a grown man. He could've been anywhere. Shacked up with a friend. Sleeping off a hangover in his car. Got lucky with a girl. There could've been any number of explanations for his disappearance." "Dowling was a drug addict," Matthews said. "He was the son of a government minister. He'd been in a brawl the day before with a notorious criminal. There was concern for
his safety."
Matthews was also the officer in charge of the search for Dowling. Mobile phone tracking technology had led his team to a deserted forest on the Dublin/Wicklow border. I swivelled in my chair, then drummed my fingers on the desk in front. Matthews showed no emotion. Big, neutral face.
"So that's why you moved so quickly," I pretended to accept this account. I took a bite of a sandwich. It tasted lousy. I inspected the packaging: it was laced with enough additives to bring me out in a rash and give me heartburn. I pushed the snack to one side and flicked at another page from the dossier. Again, I made it look like I'd just come to it afresh. In fact this was my third assessment. At the end of the first reading a number of things jarred. Suspicious bruising on the corpse. Conflict between toxicology results and Patrick Dowling's behaviour.