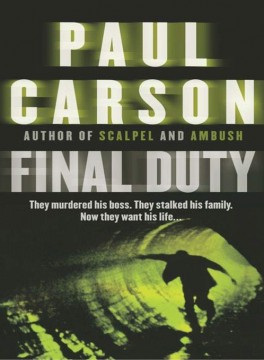 They murdered his boss, stalked his family and invaded his home. Now they want his life…
When Jack Hunt is lured from his native Dublin to Chicago's top hospital the brilliant young heart specialist sees a new life ahead for his family. And they day he's appointed head of the unit, his own dreams are fulfilled.
But he's promoted into a nightmare. Random street attacks, mindless vandalism, round-the-clock surveillance. It doesn't make sense. And it escalates. Within months Jack Hunt's world collapses: he's out of a job and disgraced.
Jack Hunt is on the ropes.
But he's no loser. He's been set up. But why? His fightback sets him on a dangerous mission, tracking murdered colleagues, uncovering explosive research data. Finally he realises he's on top of the greatest ever scandal in medical history. But he won't be allowed to tell the world if his enemies can find him first.
Dr Jack Hunt was drafting his letter of resignation when the assassin entered the building.
A laminated nametag proclaimed her as Dr E Berenski, a senior attending in Invasive Cardiology at Chicago's Carter hospital. It was stuck crookedly to the breast pocket of her grimy white coat. An outsider had supplied the false identity and disguise; the bogus doctor's real name was Kate Hanzek, a thirty-two year old contract killer flown in from Denver to stalk and now kill her prey. She'd waited until an ambulance screeched into the Carter's emergency room bay, then shadowed the frenzied bloodstained chase as a limp body was stretchered inside. Stethoscope swung around neck, navy scrubs under white coat, she looked the typical ER doctor.
"Out of the way, out of the goddamned way", shouted one of paramedics, "the kid's bleeding to death."
No one noticed Hanzek. No one was looking; all attention focused on the injuries to the young boy dragged from under the wheels of a stolen car crashed near one of the city's rundown projects.
"He's in shock. We couldn't even get an IV line," another attendant cried as the heavy-duty wooden swing doors burst open into the trauma room. "His chest's caved in."
A surgical team swung into action. IV lines, drainage tubes and oxygen masks were pulled closer. "Give him a litre of Crystalloid stat, we'll need bloods for group and cross matching." Fevered instructions filled the air as the medics struggled to stabilize the mutilated body.
Carter hospital held the city's main paediatric trauma department. Located on a corner site on W Harrison in the middle of Chicago's tight cluster of top medical facilities, the institution prided itself on its success statistics. But like every large organization it had a constantly changing staff. Strange faces came and left almost as frequently as the ambulances ferrying the injured and wounded of the south and west inner city and suburbs, so Kate Hanzek soon merged with hospital traffic on street level.
On the ninth floor, where the Heart Unit was based, Jack Hunt struggled to find the exact words. 'Dear Professor Lewins, with some reluctance I voice my disquiet at certain practices within the Carter cardiology department'. The page was scrunched and trashed. First of all, thought Hunt, he's not dear and secondly I don't think he gives a shit what's going on here.
He sat back in his chair and sighed, then reached for a fresh page. He glanced at the photo on his office desk, young wife and eight-year old boy looking out, both laughing. It's for you guys, okay? If I have to quite this'll be the final move, I promise.
He started writing again. 'Professor Lewins, it is with some regret that I inform you…'
Hanzek reached the ground floor elevators and squeezed in beside an elderly man in a wheelchair being pushed by an orderly. The attendant glanced at her briefly. "What level?"
She didn't hesitate. "Nine. Heart Unit."
A nicotine-stained finger pressed six and nine and two lights glowed.
She touched the handgun tucked inside an inner pocket, reassured by its hardness through the thin cloth against her skin. She had chosen a Heckler & Koch P7, a nine-millimetre pistol with a four-inch barrel and nickel finish. This was an expensive weapon, about a thousand dollars on the legitimate market and not the type used in most street crimes. It had served her well before. Hanzek moved an elbow to cover the bulge.