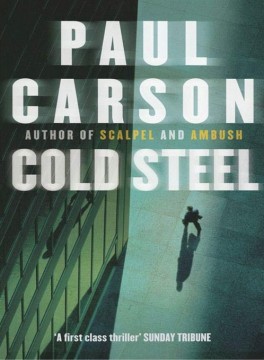 When the body of a teenage girl is found in a Dublin park it is every parent's nightmare. She has been brutally stabbed to death. For Dublin's police and politicians the nightmare is just beginning. The dead girl is the daughter of a top American heart surgeon, brought over to head the Mercy Hospital's new Heart Foundation. America is baying for justice. When DS Jim Clarke and his team pick up the trail of a suspect, the pressure is on to close in quickly. But do they have the right man? Meanwhile Frank Clancy, consultant haematologist to the Mercy Hospital, is concerned about two unusual deaths. But when he takes a closer look he places his own life in terrible danger. Cold Steel is an unputdownable and terrifying thriller weaving a story of corruption, power and greed stretching from the heart of Dublin to the shores of America.
Cold Steel prologue:
CONCERN GROWS FOR MISSING
US SURGEON'S DAUGHTER
Police are concerned for the safety of missing schoolgirl Jennifer Marks. The eighteen-year-old failed to return home yesterday and a search for her began late last night. Extensive inquiries failed to determine the teenager's movements after she left school yesterday afternoon. The search continued until after dark, when it was finally called off. Officers resumed door-to-door questioning at first light this morning.
Jennifer Marks is the only daughter of Dan Marks; the top US cardiac surgeon appointed head of this city's recently established Heart Foundation. He was unavailable for comment this morning.
Tuesday, 12th May, Dublin Evening Post (early edition)