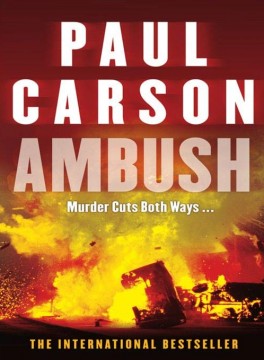 Scott Nolan enjoys a flourishing career as a doctor, a rising media profile as a persuasive campaigner against drug abuse, and a beautiful new wife.
But one wintry Dublin morning Scott's life is changed forever when contract killer Sean Kennedy and his team of assassins attempt a daring double ambush on Ireland's anti-drugs minister and his medical spokesman. The attacks end in chaos, leaving a trail of destruction and death.
Scott vows revenge. But can one man take on Ireland's notoriously ruthless drug barons?
Desperate to claim back his life and find the killers Scott enters an uneasy alliance with his wife's brother, Detective Mark Higgins. Doctor and detective then embark on a highly controversial international covert mission to track down the leader of the murder gang. Using secret US army interrogation compounds and breaking almost every law in the land, the duo finally close in on their target.
They arrived early, just as the first greyish streaks of daylight broke through a Dublin skyline.
"Shift it." Sean Kennedy tapped on the driver's side of a black Toyota Corolla and the window slid open. The car was fogged from cheap French cigarettes and Kennedy waited until the air cleared and the two-chain smoking Russians inside stopped coughing.
"I'll cut in front of you at the end of the road. Keep about a five-minute gap between us so I can find a parking space. When I pull out you drive in and wait until I give the word." Kennedy knew the men only by their first names, Alex and Matthe, and reckoned they were in their mid-forties. Alex understood English better so Kennedy spoke mostly through him. "Stay in constant contact." Alex translated all this to his partner who was leaning across from the passenger side, his face a mixture of confusion and edginess. His expression didn't change as the instructions were explained.
They were in the driveway of a Georgian house at one end of a quiet road in an affluent south city suburb. Behind its bolted doors on the top floor a middle-aged bank executive, his wife and three children were bound and gagged and struggling to get free. But they were roped securely together in a bedroom and out of sight of any windows.
"Does Matthe know exactly what to do?" Kennedy loathed working with outsiders and this duo was worrisome. Their English was poor, they looked shifty and suspicious and dressed like gypsies. But they were experienced killers and that morning had brought a small arsenal of handguns, smoke bombs and explosive grenades. And, on the positive side, if they got caught they didn't know enough to become a problem in themselves.
Alex leaned his right hand out of the window and flicked a dead cigarette butt onto a sad looking flowerbed. He fixed on Kennedy and held his gaze, his breath frosting in the chill morning air. "He understands, Mr Kennedy. I have explained it to him like you said." The engine was gunned alive and the Toyota edged away from the house, then turned right towards rush hour traffic already gathering on a main road five hundred yards ahead.
Fuck you, thought Kennedy as he limped past a silver Saab coupe, its engine running to thaw ice clinging to the windscreen. The trussed-up banker owned both cars and giving up the keys without too much of a struggle had protected his youngest daughter from a second lit cigar being ground into her face. Kennedy shivered as the cold penetrated and he grabbed at the lapels of his overcoat and dug his chin deep for cover. He stopped at the gateway and looked up and down, then returned to the car, satisfied no one was watching.
The street was a mixture of terraced Georgian houses and grand high, narrow roofed detached villas. The area reeked of money and style with electronically controlled gates protecting entrances and CCTV cameras recording all movements. There were trees along the pavements; the gardens were well groomed and tidy without debris, unusual in a city notorious for its litter. The residents were mainly well to do business types, barristers, surgeons and senior embassy personnel. Lights glowed in bedroom windows as other occupants stirred for the day ahead and already one top of the range black Mercedes had crunched across gravel and out onto the main road before picking up speed and heading towards the city centre. It was five minutes past six on the morning of February tenth and a cold, crisp day with a hint of snow you could almost smell in the air. The weather bureau had predicted heavy falls along Eastern counties of Ireland with black ice on inland country roads. Already dark and angry-looking clouds were rolling in from the north and temperatures were dropping, ice and frost now clinging to every surface.